Plastic Heilex Ring
Product No: TPU®-

PHR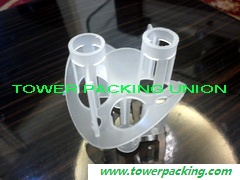 Plastic Heilex Ring brief introduction
Plastic heilex ring is a new kind of open-celled packing. Heilex ring has unique configuration, and usually made by PP injection. Plastic heilex ring enlarges its surface area and void space which contribute a lot to enhance the product performance. And heilex ring won't nest, and the gas-liquid could be well distributed. We can provide heilex rings in a variety of plastic, such as PP, Polypropylene, PVC, PVDF, HDPE and Glass Filled Polypropylene etc.
Plastic Heilex Ring mainly applied to gas absorption, acid gas absorption, cooling and gas purification, etc.
Advantages: High void ratio, low pressure drop.
Specifications:
Specification
Surface area
Void space
Bulk density
Num
Packing factor
inch
mm
m2/m3
%
kg/m3
per/m3
m-1
2″
50*50
101
94
65
8000
70
3″
76*76
55
96
56
3420
87
4″
100*100
75
95
48
1850
46