Plastic Tellerette L-II
Product No: TPU®-PTL-II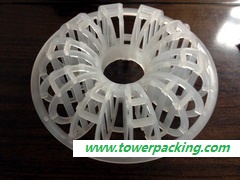 Plastic Tellerette Ring is also named Teller Ring or Rosette Ring which is made up of radial arranged small rings. It is also an economical and versatile industry standard with well-known performance characteristics.
Advantages:
<![if !supportLists]> Ø <![endif]> Lower pressure, energy, mass transfer efficiency
<![if !supportLists]> Ø <![endif]> Excellent Liquid distribution
<![if !supportLists]> Ø <![endif]> Light Weight
We can supply different materials such as polyethlene(PE), polypropylene(PP), reinforced polypropylene(RPP), polyvinyl chloride(PVC), chlorinated polyvinyl chloride(CPVC) and polyvinylidene fluoride(PVDF) based on different application requirements.
Application: Absorption, scrubbing, and stripping services etc.
Technical Parameter of Plastic Tellerette L-II:
Specification
φ
High
mm
Num
n/m3
Specific surface area
m2/m3
Void
%
143mm
48
1180
100
93