Metal VSP Ring
Product No: TPU®-

MVR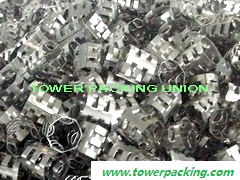 Metal VSP Rings have reasonable Geometric symmetry, good structural uniformity and High porosity. The surface of the packing tower is continuous and not disconnecting, evenly distributed in space. Compared with Pall Ring, its flux can increase 15-30 percent, and the pressure can reduce 20-30 percent.
During plant operation Metal VSP Rings create gas/liquid contact on easily wettable surfaces and promote the formation of droplets as the liquid cascades down the packed bed. This ensures good liquid mixing and consistent and uniform distribution. This open non-nesting structure creates high efficiency and a very low pressure drop.
<![if !supportLists]> ² <![endif]> Metal VSP rings are available in a wide range of carbon steel and stainless steels
<![if !supportLists]> ² <![endif]> low pressure drop, good distribution of gas-liquid.
<![if !supportLists]> ² <![endif]> Materials: carbon steel, SS304, SS316, SS304L, SS316L,Brass, Alumina
Metal

VSP ring

(Data sheet)
Model
Size
D×H×δ
mm
Surface Area
α
m2/m3
Void
ε
m3/m3
Num
n/m3
Weight
γρ
kg/m3
Dry packing factor
α/ε3
m-1

Dg25

25×25×0.6

250

0.93

59200

420

310

Dg38

38×38×0.6

138

0.947

14000

296

163

Dg50

50×50×0.8

121

0.95

7000

350

144

Dg76

76×76×1.0

75

0.95

1950

280

86