Metal Raschig Ring
Product No: TPU®-

MRR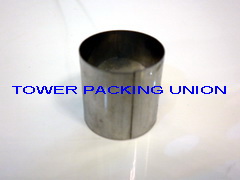 Metal Raschig Ring Packing is proven in a wide range of mass transfer applications. A full range of Raschig Ring sizes and materials are available to tackle a wide range of separation applications. Raschig Rings have a long history of improving separation efficiency in applications including:
• Petrochemical distillation and extraction applications
• Absorption in gas processing and combustion plants
• Desorption in water treatment
The Metal Raschig Ring structure provides one of the largest surface areas among tower packing options and handles heavy loading, process upsets and temperature shocks.
Specification
D*H*δ
Specific
surface area
m2/m3
Num
n
m-3
Bulk Density
kg/m3
Void
ε
m3/m3
3/8"
Φ10xH10x0.3mm
482
768000
527
92.7
5/8 "
φ16xH16x0.3mm
338
214000
379
93.1
1 "
φ25xH25x0.3mm
218
52000
223
94.8
1.5 "
φ38xH38x0.4mm
141
15200
203
96.08
2 "
φ50xH50x0.5mm
107
6500
199
95.9
3 "
Φ76xH76x0.6mm
74
1830
150
97
3.5"
Φ89xH89x0.7mm
65
1200
161
98